In last month's team update, we introduced you to Sonal and Jacob, the newest members of the HA&W team.
This month, we chat with Dawn and Liz, technical administrators with more than three decades of combined HA&W service.
Essential cogs in the company wheel – and involved in all aspects of our financial administration activity – keep reading to find out what these HA&W mainstays get up to outside of the office.
But first, what does a technical administrator's average day look like?
"No two days the same"
"I'm not sure there is an average day," begins Liz.
With the help of new recruit Sonal, Liz and Dawn support HA&W's Chartered financial planners through every stage of the advising process. From the first client meeting, through to recommendation reports, implementing a financial plan, and building an ongoing relationship, Liz and Dawn's work is vital.
"We could be scouring through compliance documentation or checking client application forms," says Dawn. Preparing the paperwork that goes into recommendations means working largely behind the scenes, liaising with providers to get the information the planners need.
"But then we can also be a point of contact for clients," adds Dawn. "If you're being kept informed about the progress of a query you have with HA&W, it will likely be us you speak to."
"Because our clients' needs are all different, no day is the same," confirms Liz. "And then there's training too. That daily challenge, the family ethos of the business and the fun we have as a group is probably why Dawn and I are still here!"
Dawn is our resident bookworm with a "crafty" side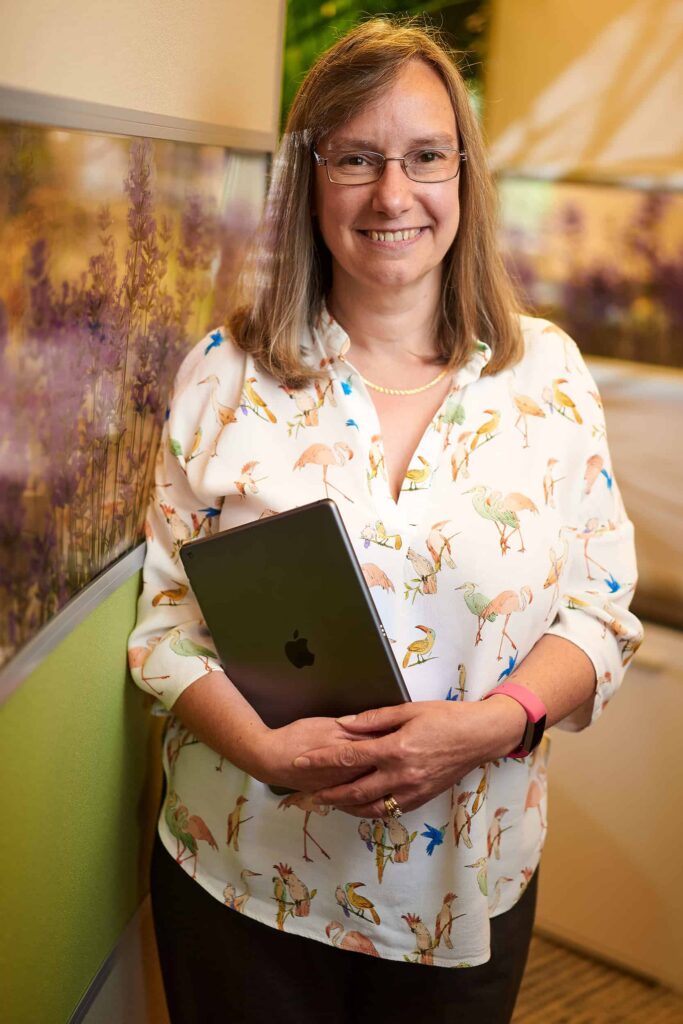 Dawn started work with us in 2001 and her input is vital to the effective running of the company. Outside of work, though, you'll usually find her reading or crafting.
"My favourite genres are sci-fi and fantasy, and detective fiction," says Dawn. From the classic sci-fi of Robert A Heinlein and Arthur C Clarke to the space opera of Iain M Banks and the fantasy of Terry Pratchett – "He is a 'god'" – Dawn also dips into detective and crime fiction.
Colin Dexter's Morse books and the Shardlake series of medieval crime novels by C J Samson are particular favourites. "Oh, and Val McDermid, of course. She's a very reliable go-to."
When she's not reading, Dawn can be found doing needlework, whether knitting, crocheting, or this impressive beading:
While Dawn's favourite ever holiday was a tour of Canada ("We visited Montreal, Ottawa, Toronto, and the west coast – Banff, Jasper – and then on to Vancouver"), post-Covid, she's stayed closer to home, relaxing at her static caravan in North Lincolnshire.
Back to the 80s with globetrotter Liz
Liz started with HA&W in 2008 and lives at home with her husband Gary and her daughter ("having just got rid of my son, who has moved into his own place with his girlfriend"). Gary's young son is a regular visitor too.
Big on Liz's outside-of-work agenda are travel, concert-going, and socialising.
"I really missed gigging during the pandemic but we've been to loads since lockdowns ended," says Liz. "Our most recent highlight was Paul Weller.
"We also saw Tony Hadley and Go West at a recent Butlins 80s Weekender. The Saturday night was fancy dress so we went as Scooby-Doo and the rest of Mystery Inc."
Liz also enjoys travelling. She loves Devon and Portugal and is heading back to the latter sometime this year. She has previously been on several trips to the Caribbean, including to Jamaica, Barbados, and the Bahamas. "I'm looking to cross Antigua and Mexico off my list soon!"
When Liz is at home, you'll probably find her in her home gym, a lockdown garage conversion that is still getting regular use post-pandemic.