This month, we take the opportunity to introduce you to two of the newest additions to the HA&W team.
Recruited in July 2021 and January 2022, respectively, you might not have met Jacob and Sonal yet. They are, though, working tirelessly behind the scenes to make sure that your experience of working with us is smooth, stress-free, and as valuable as possible.
Keep reading to find out everything you need to know about trainee paraplanner Jacob Siara and technical administrator Sonal Trivedi.
Sonal was looking for a company whose values aligned with her own
Working closely with Liz and Dawn, Sonal has been a technical administrator here at HA&W since January.
Sonal's role involves supporting the planning team in arranging clients' financial needs, through implementing their plans, managing data, and interacting with investment providers.
Of her move to HA&W, Sonal says: "I chose HA&W because of its reputation. All of the clients here are so well looked after and often feel more like friends of the company than clients. This really appeals to me.
"The way the team puts our clients at the heart of everything we do, allowing these relationships to build up over a long time, is really important.
"Concentrating on long-term plans, as independent providers, with complete transparency in the way we operate builds trust. And the trust clients place in our advisers here is very clear.
"This client-focused approach is what appealed most."
When starting a new role, it's not always easy to hit the ground running, but Sonal has been progressing quickly.
"Liz and Dawn have both been so supportive and happy to answer any questions I have," Sonal says. "They've been keen to challenge me too, giving me a variety of things to learn – even if a task will take me longer to complete than it would them.
"Having the support of people with your development at the forefront of their minds, and the sense – which I get from the whole HA&W team – that they really want us all to do well, makes a huge difference.
"I really appreciate that mentality and the time and effort everyone is making to ensure I feel part of the team."
And the best part of the role so far? "I didn't expect the experience to be as lovely as it has been!"
Outside of work, you're most likely to find Sonal walking in the countryside on the outskirts of Loughborough with her partner, and her five-year-old son.
"Exploring new footpaths every time we head out turns each trip into an adventure," she says. "You never know when you're going to come to face-to-face with a herd of cows or walk into a field containing a solitary bull."
Jacob didn't know what to expect when he entered the world of work straight from his university degree in banking and finance
"I finished my degree and the next week I started here," Jacob says about his quick turnaround from student to working life.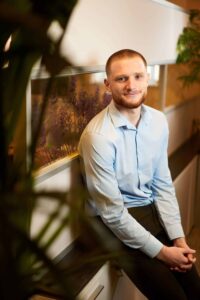 "I didn't know what to expect but I was pleasantly surprised with how friendly everyone was from the start, and how well everyone in the office gets on!"
Jacob joins us as a trainee paraplanner and has found the role so far "challenging, but enjoyable," with "plenty of room for progression as my experience grows."
There have been added upsides to the knowledge he has accrued so far too. "The practical things I'm learning have meant that I've been able to help my parents with money matters and explain financial issues to them. It's great to be learning something new and to be challenged daily. For my career choice to have immediate real-world benefits for those around me is an added bonus!
"Sue has been amazing, too," Jacob adds. "She has taken me under her wing and she has such an impressive bank of knowledge. She's the perfect person to be learning from."
Despite a childhood dream to one day play football for his beloved Leicester City ("If it hadn't been for that Achilles injury aged 11," he laments), Jacob continues to enjoy sport and plays regular football and basketball.
He's recently signed up to play for Nottingham Eagles, a Polish basketball team based in Nottingham.
After finishing bottom of the league last season, Jacob has only been involved in friendlies for the team so far. "I'm hoping we can achieve a better finish this year," he says. "The games I've played so far have been great fun!"
Watch this space to see if a professional basketball career is in the offing!
A warm welcome from us all
We'd like to take this opportunity to formally welcome Sonal and Jacob to the team.
They've both settled in quickly and bring a wealth of passion and enthusiasm with them. We can't wait to see how they grow as part of the HA&W family!